Hi there once again guys, chaosmen is back again with a very special feature this time. As one can see, in this scene we have no less than three guys and all of them horny as hell too. Normally you get to see two studs or solo scenes around here, but this was a special occasion. So we wanted to leave three of our best guys having some sensual moments together, and what resulted from that is pure magic as everyone can see. This scene is sizzling hot and you definitely need to check out every single picture inside too. All of them featuring the guys going down and dirty and it's quite the treat to watch them in sexual action today.
The chaos men trio were about to put on the hottest threesome on and it can be all seen in detail. Watch as the guys decide who's going to be on the receiving end it turns out to be the guy with the Celtic cross tattoo on his arm. He gladly takes his spot on top of one of the dude's cock and sucks passionately on the other's cock. It's just the most awesome thing to see the dude getting both holes pounded hard style by big cocks and moaning in pleasure while he's at it too. The whole fuck fest ends with the dude covered in jizz and pretty eager to go for another round if the other studs would be up for it. Enjoy it and see you soon with more!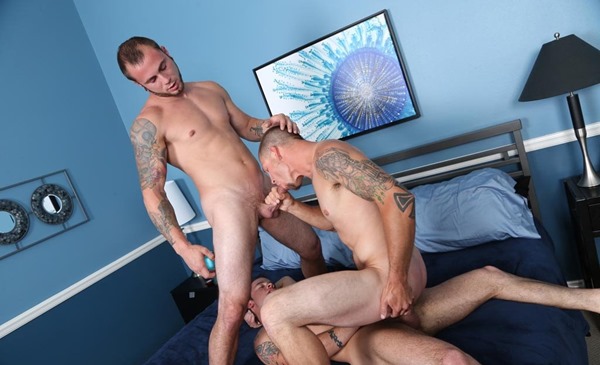 Watch these jocks sucking and fucking one another!